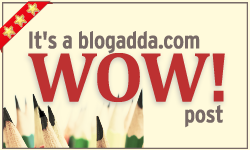 This post is a part of Write Over the Weekend, an initiative for Indian Bloggers by BlogAdda.'
Priya was very excited today.  She had planned a surprise for her husband Rajan's 50th birthday.  Rajan was a reserved guy who didn't believe in throwing parties or celebrating birthdays in a flamboyant fashion.  He preferred quiet family dinner.  This year their children,  Veena and Uday, 20 and 18 respectively had left home for further studies.  Rajan had been keeping extremely busy lately and was stressed out too.  Priya was worried about his health.  They hadn't taken a break for a long time and so Priya had decided that she will take Rajan out for his surprise birthday outing.
She knew Rajan loved being amidst nature.  When they were young they ventured out to the woods often.  It had been years owing to work and responsibilities that they had stopped that ritual.  Priya decided to revive that.  She had booked a great forest resort in Bandipur and started meticulously planning everything.  She had packed some sensuous dresses, perfume, cards and a love letter sealed in an envelope that she had decided to give him on his birthday.  The child in her had packed some colorful heart-shaped balloons too, with which she had decided to decorate their suite.
Only 2 days were left for Rajan's birthday.  Priya was excited.  She was 46 but these days she felt like she was 26 all over again!  Fortunately, Rajan's birthday was on a long weekend this year.  This had helped her plan her stuff better.
"Happy birthday to you", Priya woke up Rajan with a kiss.  Rajan was surprised.  Priya used to wake him up like this in the initial years of their marriage, but later as monotony set in she had stopped doing so.  He was surprised and happy!  "Thanks love for making this 50-year-old feel like 30 again!"  Priya blushed and said, "Wait, I will make you feel like 20 tonight.  Now go and have your bath and get ready.  We will go out in a while.  Please no work for 2 days now!"
Rajan got ready and they got into the car.  Priya drove the car and Rajan thought she would stop at their favorite joint, but she drove past that and they were on the highway now.  Rajan asked her, "Darling, what's going on?  Tell me where are we going?"  She said, "Seems you are used to Bengaluru traffic.  Now time for some peace!  Don't ask me anything till we reach our destination."  Priya smiled and winked at him.  Rajan felt really happy after a long time.  He was overworked and needed a break.  "How thoughtful and loving is my Priya.  Seems as we are starting our life all over again."  He smiled to himself.
Bandipur forest resort was not too far away now.  Only half an hour was left now to for the beginning of their dream break and celebration.  Rajan was almost dozing off when Priya suddenly stopped the car with a screech.  It was a secluded patch and it was almost evening.  Two masked men came in front of the car and Priya had to halt the car.  One of the men, in a fraction of second, put a pin in the front tyres and both the front tyres were flat now.  They signalled them to open the windows.  When Rajan and Priya refused, they threatened to break the windows.  Both knew they had no choice in this forest now.  As they opened the windows, the men asked for all the valuables from them.  The burglars seemed dangerous; they had knives.  Before they could ask them to open the dickey, they saw a police patrol jeep coming and the burglars fled away.
By now, Priya and Rajan were shaken, but they stopped the police jeep and asked for help.  The police was helpful enough and helped them lodge a complaint and get their tyres fixed.  By the time they reached the resort, it was very late, almost 11:45 pm.  Priya was shaken and at the same time very, very upset that her surprise plan was ruined this way.  She went inside the room, embraced Rajan and started crying.  Rajan said, "Its okay darling.  We are safe and sound and you are with me and that's what matters the most."
As Priya went in the bathroom to freshen up, Rajan opened the suitcase to take out their night clothes.  As he emptied the suitcase and kept their stuff in the cupboard, he saw a sealed envelope hidden amidst the clothes.  He became curious as he saw his name written on the envelope.  He tore it, took out the letter and started reading it.  It said, "Dear Rajan, I wish you a very happy birthday.  I know we both were drifting apart lately, but I want to tell you today how much I love you.  You mean the world to me.  I might have not expressed my love well in the past few years, but today I want to shed all the inhibitions and surprise you with my new avatar.  Hope you also love me as you used to love me 25 years ago.  Always yours, Priya."  Rajan had tears in his eyes.  They had lost so many precious moments.  He felt really bad for Priya that the burglars had spoiled her surprise for him.  Just then Priya came out and saw Rajan with the letter in his hand.  Rajan smiled and hugged her.  He said, "Lets not waste any of our time now lamenting on what happened.  We have already wasted so many years not expressing our love for each other.  We still have so many hours and years of togetherness left."
Priya smiled and said, "Wait!  Let me decorate the room first.  I wanted it to be a surprise, but…"  Priya took out the packet of heart-shaped balloons and Rajan smiled.  Both of them started to inflate the balloons and decorated the room together.  They had revived their love in a new way again.
Their was serenity and peace in the forest as well as in their hearts.